Ruche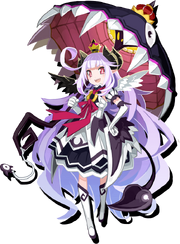 {{{nickname}}}
Information
In-Game Information

List of Abilities
Ability
Effect
{{{ability1}}}
---
{{{ability2}}}
---
{{{ability3}}}
---
{{{ability4}}}
---
{{{ability5}}}
---
{{{ability6}}}
---
{{{ability7}}}
---
{{{ability8}}}
---
{{{ability9}}}
---
{{{ability10}}}
---
{{{ability11}}}
---
{{{ability12}}}
---
{{{ability13}}}
---
{{{ability14}}}
---
{{{ability15}}}
---

Weapon:
Beholder
Familiar:
Beholder
Gender:
Female
Crest(s)
Homeworld
The Underworld
Misc. Information
Gender:
Female
Ruche is a character in Trillion: God of Destruction.
Official description
Edit
Zeabolos' niece, Perpell's older sister, and the Overlord who holds the Crest of Pride.
She looks down on Zeabolos after his defeat, and undertakes fighting Trillion so she can become the Great Overlord and rule over the Underworld. Having received advanced education from a young age, she is very proud, selfish, and domineering.
External links
Edit
Ruche on the Heroes wiki.
Ad blocker interference detected!
Wikia is a free-to-use site that makes money from advertising. We have a modified experience for viewers using ad blockers

Wikia is not accessible if you've made further modifications. Remove the custom ad blocker rule(s) and the page will load as expected.