Ragon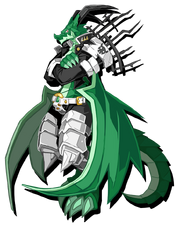 {{{nickname}}}
Information
In-Game Information

List of Abilities
Ability
Effect
{{{ability1}}}
---
{{{ability2}}}
---
{{{ability3}}}
---
{{{ability4}}}
---
{{{ability5}}}
---
{{{ability6}}}
---
{{{ability7}}}
---
{{{ability8}}}
---
{{{ability9}}}
---
{{{ability10}}}
---
{{{ability11}}}
---
{{{ability12}}}
---
{{{ability13}}}
---
{{{ability14}}}
---
{{{ability15}}}
---

Weapon:
Swords
Familiar:
None
Gender:
Male
Homeworld
The Underworld
Misc. Information
Gender:
Male
Series Information
Japanese VA:
Daisuke Ishida
Ragon is a character in Trillion: God of Destruction.
Official description
Edit
A high-ranking Fallen One who helps train the Overlords. 
Personality
Edit
Stoic, earnest, thoughtful, and dutiful; Ragon holds a Kinght-like persona in his mannerism. Held in high-regards by Zeabolos and his peers for his experience in real combat.
Appearance
Edit
Ragon's overall appearance is tatof a green, humanoid dragon with greaves and weapons sheated behind his wings.