Mammon is a character in Trillion: God of Destruction.
Official description
Edit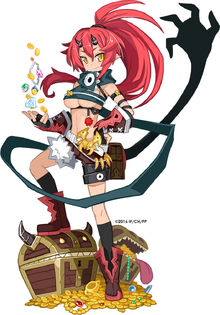 As Overlord, Mammon holds the Crest of 
Greed
.
She's a selfish wanderer with a brazen personality. She decides to take on the role of fighting Trillion with the prospect of gaining all the wealth in the Underworld as the Great Overlord. Originally, her role was to oversee the Gate of Hell, but prior to Trillion's attack, she abandoned her post in favor of adventuring for treasure.
Ad blocker interference detected!
Wikia is a free-to-use site that makes money from advertising. We have a modified experience for viewers using ad blockers

Wikia is not accessible if you've made further modifications. Remove the custom ad blocker rule(s) and the page will load as expected.